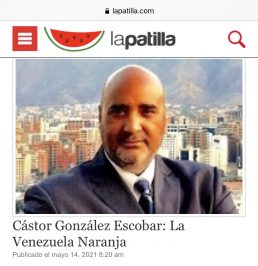 Venezuela is Orange
Venezuela is an infinite sea of opportunities, where almost everything is yet to be done and built again, as it once was in the mid-twentieth century, when with much effort, discipline, vision and aided by the vast natural resources available, it was possible to develop a country that for some time was a reference, at least for Latin America. Here, local and foreign talents converged, which were later joined by legions of fellow locals trained in other latitudes, who brought modernity fresh from the oven of the best universities in the world, with which the country became an enviable promise, which shortly after had to face a populist fantasy that has cost at least two decades of involution in every way and every imaginable direction.
Although there have not yet been definitive changes that allow us to affirm that we are on an unequivocal route back to modernity, it could be affirmed that the most important change has occurred, and it has to do with the decision of the majority of Venezuelans to advance in building a better future, despite the adverse environment and circumstances. This decision, by the way, does not depend this time on external factors, but on the intimate individual conviction that only by deploying their creativity to the maximum and transforming their ideas into innovative and competitive products or services, will they be able to go from an economic condition of elementary subsistence to prosperity.
Two decades ago, John Hawkins, renowned author of the bestseller "The Creative Economy: How People Make Money from Ideas", defined the creative economy as "the set of activities that allow ideas to be transformed into cultural goods and services, whose value would be determined by their intellectual property content ". Then, much has been written about it and in fact, from there the theme of the so-called Orange Economy has been developed, since everything that has to do with the creativity is connected with the orange color.
The Creative Economy or Orange, is nothing other than what Churchill visualized more than 75 years ago, when he affirmed that, "The Empires of the Future would be the Empires of the Mind", referring with clear anticipation to the fact that, in the future, power would reside not in those who dominated the lands, but in those who had the domain of ideas and therefore of creations. And as example, Apple, Amazon, Microsoft, Google, Facebook, Tencent, Tesla, Alibaba, all of which are not only part of the top 10 of the global business rankings, but also have in common being associated and having as the backbone of its activity to innovation.
Although talking about creativity and innovation to some seems distant and even improbable in a jurisdiction like Venezuela, nothing is in any case further from reality, as we had the opportunity to verify just a few weeks ago, when organizing and moderating the event "Celebrating Ideas: Intellectual Property and SMEs", within the framework of the World Intellectual Property Day commemoration; where we had the opportunity to share with Elvira Trigueros de Parés, Director of the BRIVIL Design Institute; Marty González, founder and director of the 5-Star Women's Movement; Errol Irausquín, founder and coordinator of the Food Truck Venezuela movement; Beatríz Ayala Cherubini, expert lawyer in Intellectual Property; and Rubén Rodríguez Gil, university professor in Business Management; who, from their perspective and experience, spoke about the entrepreneurial movement that is taking place in the country, which, backed by creativity and innovation, does nothing but advance positively.
None of the above denies what is in sight, and it is that for the creative economy to flourish and manifest and develop in all its splendor, there are an infinity of pending tasks, many of which have to do with the business environment, basic services and legal certainty that are required to make innovation a sustainable constant.
What is true in any case is that Venezuela is Orange because it is creative, and that creativity decided to manifest itself against the wind, tides and storms, so welcome to that new chapter that is being written, even against all odds, hoping that it will lead to one of those new empires of the mind.
***Free Translation from the article originally published in Spanish in www.lapatilla.com on May 14th, 2021***