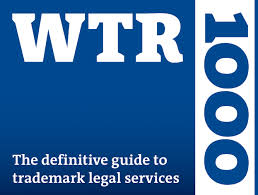 We proudly share that World Trademark Review has featured our partner Cástor González-Escobar in their 2017 WTR 1000 global ranking of leading trademark attorneys as a recommended expert, a great strategist and highlighting his strong anti-counterfeiting practice throughout the Latin American region.
At GR LEX we extend our sincere congratulations to all our colleagues listed in the WTR 1000, which shows their engagement, talent and efforts in providing high quality professional services.
About the WTR 1000 2017
The leading national and international trademark practitioners from around the globe have been revealed with the publication of the WTR 1000 2017. As well as illustrating the depth of expertise available to brand owners as they seek to protect their brands, the guide serves as the definitive tool to locating the best trademark partners worldwide.
Following the success of the WTR 1000 2016, this expanded seventh edition, published in January 2017, further cements the guide's reputation as the definitive directory exclusively dedicated to identifying the world's leading trademark legal services providers. This year's publication features more than 80 country and US state- specific chapters analysing local trademark legal services markets and profiling the firms and individuals singled out as leaders in their respective fields.
You can access a full version of the WTR's press release at the following link: WTR1000 Press Release
Click here to see the WTR 1000 2017