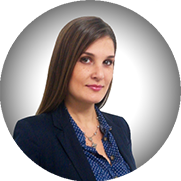 Verónica Rodríguez Martins
Associate
Email:


veronica@grlexamericas.com
Verónica Rodriguez-Martins is an Associate and Intellectual Property Specialist at GR LEX AMERICAS. She deals with all kind of proceedings related to the management and maintenance of IPRs.
Ms. Rodriguez-Martins studied at the Santa Maria University School of Law where she earned a J.D. in 2005.
She started her career as a Legal Assistant in another Venezuelan Law Firm in the area of criminal law specifically about labor, environmental and financial crimes, monitoring the progress of legal procedures conducted by the Prosecution Office, courts and the investigations police. Then, she made a move on her career and worked for six years at the Venezuelan branch of BBVA Bank dealing with different compliance and risk matters. Before joining GR LEX, she worked managing the supervision and compliance of the Venezuelan complex regulations in an important construction company.
Ms. Rodríguez-Martins speaks Spanish.