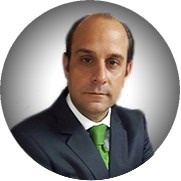 Nicolás Rossini Martin
Partner
Email:


nrm@grlexamericas.com
Nicolás Rossini Martin is Partner of the Law Firm GR LEX AMERICAS.
Mr. Rossini has an extensive experience dealing with the management of Intellectual Property Rights across the Latin American region, representing several international and local brands, providing them with consultancy and legal briefs in relation to all aspects of their IP portfolios and representing them before the Venezuelan authorities in Administrative, Civil and Criminal matters. He has successfully developed, planned and executed strategies for the effective protection of IP portfolios in several jurisdictions, including the participation in trademark valuation projects, negotiating and organizing portfolio, international licensing and technology transfer agreements.
Mr. Rossini studied at the Santa Maria University School of Law where he earned a J.D. and he was awarded a specialization in Intellectual Property Law from Los Andes University.
As a specialist in Copyright Law, Mr. Rossini has organized and participated in different Seminars for the legal representatives from various Radio and Television Networks in relation to the best use of their Copyright assets and the application/compliance of/with the appropriate rules.
Active member of many of the most prestigious Intellectual Property associations, such as the International Trademark Association (INTA), the Inter American Industrial Property Association (ASIPI), the Venezuelan Industrial Property Agents Association (COVAPI); and the Miranda Bar Association (Venezuela).
Nicolás Rossini Martin speaks Spanish and is fluent in English and Italian.