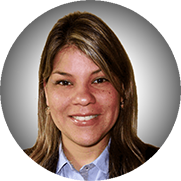 María Alejandra López García
Senior Associate
Email:


mlopez@grlexamericas.com
María Alejandra (Alex) López-García is a Senior Associate and Intellectual Property Specialist at GR LEX AMERICAS. She is in charge of dealing with the communication with our clients in the English speaking countries and coordinates the management of trademark portfolios with our associates across Latin America.
Ms. López-García is a Corporate lawyer, researcher and advocate for intellectual property rights, with experience in private and public sector at national and international level. Graduated from the Santa María University (USM – 1994 – Caracas, Venezuela). Intellectual Property Specialist from the Metropolitana University (UNIMET – 2004/2006 – Caracas, Venezuela). LL.M. in Industrial, Intellectual Property and Information Society Law from Alicante University (UA – 2006/2007 – Alicante, Spain). Member of the Winner team of the EIPIN 8th Congress 2006-2007, Moot Court case Viacom vs. YouTube, as Alicante´s University representative. Between 2007 and 2011, she was part of the Legal Staff of the WIPO Arbitration and Mediation Center (Geneva, Switzerland), serving as the first Venezuelan Case Manager of more than 500 UDRP and ccTLDs for domain name dispute resolution cases. She assisted in the implementation process of the WIPO Center as an Internet Service Provider (ISP) for ccTLDs in Latin America (.BO, .CR, .DO, HN, .PE). She contributed in the drafting of policies and translation of ccTLD registration agreements in Latin America (.BO, .CR, .DO, HN, .PE). In 2010 she performed as a speaker for the students of the Adolfo Ibañez of Chile University. Since 2015, she performs as an Expert of the Latin America IPR Helpdesk http://www.latinamerica-ipr-helpdesk.eu/, a project of the University of Alicante and the European Commission. On her return to Venezuela and before joining GR LEX, she worked as a consultant lawyer in Intellectual Property and Commercial Law matters at Lopez Villa & Asociados.
María Alejandra (Alex) López-García speaks Spanish and is fluent in English and French. She also has a basic knowledge of German.