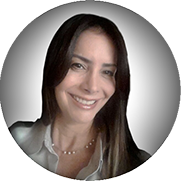 Eddy Newman
Partner
Email:


eddy@grlexamericas.com
Eddy Newman is Partner of the Law Firm GR LEX AMERICAS.
Ms. Newman has broad experience in the Intellectual Property area, including trademark and patents practice. She also has a wide experience in Commercial Law, with a primary focus on Foreign Investment operations.
Ms. Newman studied at Los Andes University School of Law where she was awarded a J.D. and a specialization in Intellectual Property Law (LL.M.). She also has a specialization degree (LL.M.) from the Andres Bello Catholic University in Commercial Law.
Ms. Newman is an active member of many of the most prestigious associations in the field of Intellectual Property, such as the International Trademark Association (INTA); Inter American Industrial Property Association (ASIPI); Venezuelan Industrial Property Agents Association (COVAPI); and the Merida Bar Association.
Eddy Newman speaks Spanish and is fluent in English.